Home>Products >Universal Clamper
Product Name
Universal Clamper
How to Use
- Can be clamped to pre-installed steel of various shapes. 
- Capture and support various equipment through the M12 size holes at the bottom or side.
Ex. 1: Attach a cable support to Universal Clamper to support cables.
Ex. 2: Attach a hanging bolt to Universal Clamper to support cable racks.
Characteristics
- Made of aluminum alloy die-casting. Lightweight and rigid.
- Tightening bracket at the tip of tie bolts to firmly engage items. Enables more rigidity in support items compared to clampers with bolts at the tip.
- Universal Clamper can be used flexibly to support items using its M12 size holes.
External View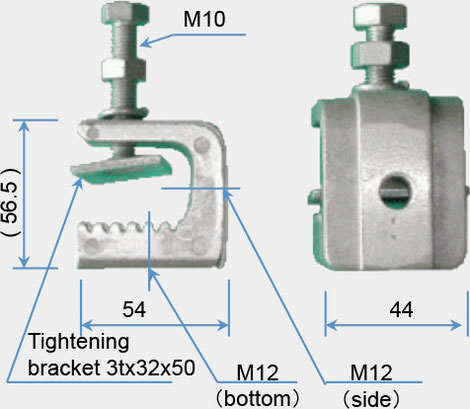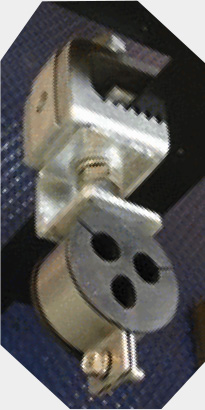 Universal Clamper is 
attached to H-steel 
supporting a cable 
bracket using the 
M12 holes at the 
bottom ⇒
Product Name
Order Code
Lead Time*
Sales Unit
Characteristics
Universal Clamper
YM 9700 A01-01
Available
1

Material: Aluminum alloy die-casting
Weight  : 245g
Fastening thickness: MAX 21㎜
Fitting hole diameter: M12(tapped hole at the
side and bottom)
(Square nuts required when using M10 hole)
* Lead Time: Available from regular stock. Please contact us for orders of 100 pieces or more.
Infographics